Seattle is a pretty rainy city, so it's no real surprise that the weekend kicked off with rain. Not the usual Seattle rain: drizzly, misty, and generally miserable. No… this was real rain. This (left) is what I saw when I left the office.
Yeah, it was coming down pretty hard. Cats and dogs and such. Maybe a Biblical reference or two.
There were more than a few people like me, whose faux bravado at the Seattle rain made sure that they had no umbrellas. Woe

I managed to get home, but not without being soaked from head to toe.
On the plus side though, the camera was weatherproof, so I got to keep clicking in spite of the rain
Not many good pictures though, on account of barely able to see out of my soaked glasses. Oy.
The thing that amazes me sometimes about the city is how the miserable weather never seems to stop anyone from having fun. It was hurricane-like: streets were flooded, the sidewalk was more like a river than anything else, and anything not nailed down was in danger of blowing away. But Friday nights are Friday nights?
After a good long week I suppose not even a near flood can keep people in
The unusual amount of rain made for some interesting pictures, though.
The texture changes on just about anything, and normally boring neon signs suddenly cast everything in their glow. Rain is like a good MySpace picture: contrasty, and you can't see much, but it looks pretty good.
It sure beats grey skies and general misery – hardcore rain is at least visually interesting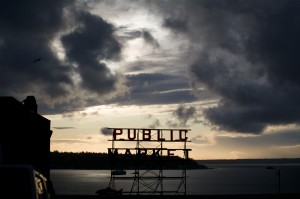 The sky did manage to clear up this morning, and people were back out enjoying the (little bits of) sun. Pike Place was busy as ever, even the protesters were back (one group about Jesus, the other about the war).
I feel like I'm kind of out of pictures to take downtown… Seattle downtown is not a very visually interesting place save for a few select locations. Maybe coming back to it later will let me see more good shots in this town.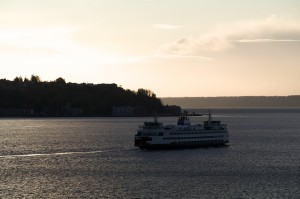 So…
Tomorrow I'm off to Bainbridge Island for some less urban shooting, and generally enjoying the hopefully unmiserable weather.
It'll be the first time I take the ferry in WA, so I'm pretty stoked about it
I should probably sleep now… ferry leaves early-ish.
I'll leave this off with my favourite view of the day: